When it comes to digital growth, domain names are what you start from! It's the first step in the long process of marketing your website through various channels. But why do you need this?
You're probably in the process of growing a small business and want to be able to tell people, "we're a digital agency." But how will you do it? The answer is: to buy a domain name.
Domain names are the address of your website: simply put, it will be the name people will use to reach you online!
But what's the deal with them? What are they really? Why is it paramount to buy a domain name in the modern digital world? How to get a domain name? How to register a domain name? This post addresses all those questions and more below!
Domain Name – Let's have a Quick Snippet
For beginners: domain names are an indispensable tool for your digital business. Domain names are your digital identity; they're the keys to unlocking your website and online presence.
Your domain is one of the most crucial factors that determine where your potential clients will find you. Just think about it, if someone were to search for a new website builder on Google, would they necessarily visit your website? Of course not.
Every website is allotted an IP address in the world of the internet. Domain names are used to identify a website's location on the internet. These addresses are combined with multiple numbers — hinting at a website's location. In short, you can see them as GPS coordinates. 
Here is what a website domain looks like:
216.11.16.177
Your website's domain name is the part of the address that is used to identify your website. It is what you type into your browser to reach your site (instead of 216.11.16.177). This enables you to remember that name better than all those numbers.
Moreover, Domain names also change over time as new websites join the internet, making it important for you to remember what's currently yours and move on to setting up a brand new domain name for your next project.
Without a good domain name, people will be hard-pressed to find and remember your website. This is important for SEO purposes but also for common sense and convenience because if someone doesn't know how to get there, they may bounce right back off.
Jaw-Dropping Stats on Domain Name
Did you know that there are over 1.8 billion registered domain names? That's a lot of websites! And, as the number of internet users continues to grow, that number is only going to increase. 
By the end of 2022, we expect to see a whopping

350 million domain

names registered across the top-level domains (TLD)

51.6% of global websites will be using a .com TLD by October 2022.

The top domain registrar in 2022 will most likely be GoDaddy, with 58.6 million domains registered from their site.

So, what's driving this demand for domain names? 
For one, as the world becomes increasingly digital, businesses are realizing the importance of having a strong online presence. A domain name is often the first step in establishing that presence. 
Secondly, there's a growing trend of businesses using unique or short domains as part of their branding strategy. This can be an effective way to stand out from the competition and make your brand more memorable. 
Finally, many people are investing in domain names as a way to generate passive income. By buying domains that you think may be in demand in the future and then selling them later at a higher price, you can turn a profit. 
So, there you have it! These jaw-dropping stats on domain names show just how big the industry is and why domains are in such high demand. Whether you're a business owner, entrepreneur, or investor, it's worth considering investing in a domain name. Who knows, it could be worth a lot of money down the line! 
Types of Domains
The most popular terms in the world, like Nike, "Amazon," or "Google," have a top-level domain (TLD) ending in the word ".com." But that's not all you can buy when it comes to domains. You can even own generic names like .org or .io or a TLD ending in ".-net." Or, there are options for people who want something creative, such as .me and .mobi for short URLs.
In the domain industry, you can buy and manage three main types of domain names: SLDs, TLDs, and ccTLDs (country-code top-level domains). Each has its own unique benefits and drawbacks. And while it might seem like an overwhelming task to choose your next domain name extension, it really is only one decision that matters. So before you head to learn how to get a domain name, let's cover the types first to make the right domain purchase.
However, generally speaking, the internet is ruled by two levels of organization.  
Second-Level Domains (SLDs) 
Second-level domains are the 'unique word or combination or words' you choose to address to your business. This is what people will call you to find you online. Your second-level domain name can be made up of letters, numbers, and even some special characters too. However, they must be service-specific and trendy, so it is always better to keep them short — so your audience can remember you effortlessly.

Top-Level Domains (TLDs) 
The top-level domain (TLD), aka, domain extensions, is like a zip code or telephone area code and represents where your website appears on the world wide web.

TLDs are a series of numbers and letters appearing at your domain name's right, after the dot. The most popular ones include .com, .net, .org and others. TLDs are also referred to as all-graphic domains or even A-GRA domains. Although any string of numbers and letters can be technically classified as a top-level domain, today, there are only 20 official TLDs out there (the last two were added in 1999). Most people use these popular extensions to identify their site's purpose in the tech space.
.com:

The first and one of the most popular extensions, '.com', stands for "commercial" websites. The .com domain names are immensely popular. Over

one-third

of all domain names on the internet are .com's. Plus, they provide worldwide access and are considered quite reputed and credible.

.net:

This extension refers to 'network'. Designed for IT or technology organizations, this TLD has been getting used in other multiple business types too.

.edu:

One of the most successful extensions .edu represents the "education" sector such as colleges, universities, schools and other educational entities.

.org:

It is a short form used for "organization." At initial, this was crafted for non-profit organizations or charities, but soon, it turned out to be a noted extension for many communities, and for-profit firms.

.gov:

As it implies, this extension hints at 'government' websites.

.mil:

It represents "military." This TLD is built for the U.S. military.
Top-level domains (TLDs) are also referred to as domain extensions. They're the series of letters placed at the right of your SLD, after the dot. Some of the most common extensions are: .com, .net, .edu etc. Some of the newest TLDs that are getting enough attention in 2022 include SITE, .ONLINE, ONE, .STUDIO, .LIFE etc.
Country Code Level Domains (ccTLD) 
Part of top-level domains, country code top-level domains aka, ccTLDs are domains used to address sovereign states. Here are some popular examples of ccTLDs.
.us:

This extension represents that the website or organization belongs to the US.

.ca:

This noted extension hints at Canada, which is controlled and operated by Canadian Internet Registration Authority (CIRA).

.tv 

One of the most popular commercial space extensions, ccTLD represents Tuvalu's island nation. The extension is designed to offer marketing rights or domain licenses to foreign businesses who are aiming to capitalize on the domain suffix. If you're interested to know

how to get a domain name

i.e. country-specific,

take a look here

.
How to Choose a Domain Name 
When it comes to choosing the right domain name, you should be asking yourself a few questions: What's my business? What is the purpose of my website? What are my goals? How do I want to invest in my domain name investment? The answers to these questions will help you best determine what type of domain you should buy.
Here are a few tips to help you choose a great domain name: 
Keep it short and simple
When choosing a domain name, it's important to keep it short and simple. This makes it easy for people to remember and pronounce.
Make it memorable
You want your domain name to be memorable, so choose something that is easy to remember and pronounce. A great way to do this is to use keywords that describe your business or website. 
Use keywords
Using keywords in your domain name is a great way to help people find your website. Choose keywords that are relevant to your business or website and that people are likely to search for. 
Avoid hyphens
While hyphens can be used in domain names, they can make it harder for people to remember and pronounce. Additionally, they can make your website appear less credible. If you do use hyphens, use them sparingly. 
Check availability  
Before you finalize your domain name, be sure to check that it's available. You can do this by doing a simple search online. Additionally, you'll want to make sure that the domain name is not already in use by another website. 
Choose a .com extension
When choosing a domain name, it's important to choose a domain extension that is recognizable and easy to remember. The .com extension is the most popular and recognizable extension, so try to choose a domain name that ends in .com. 
Check for Trademark Infringement 
Before you finalize your brand name, do a trademark lookup to make sure it's not already in use. 
You can avoid costly legal hassles by checking for trademark infringement before you launch your brand. A simple trademark search can help you steer clear of any potential problems. 
Not sure how to do a trademark search? There are a few different ways you can go about it. 
You can search the USPTO's database yourself. Just go to their website and use the search bar at the top of the page. You can also hire a lawyer or trademark registration service to do a search for you. This is generally more expensive, but it's worth it if you want peace of mind. 
Doing a trademark search may seem like a lot of work, but it's worth it to avoid any potential legal problems down the road. So, take the time to do a thorough search before you launch your brand. 
Brainstorm your Domain Name
While there are some special tools that help you brainstorm domain names, you can do it without them. But brainstorming can be tricky, because many popular domain names are already taken.
Expert Tips: Try to think of a keyword that describes your site and then mix it with other words to come up with a few good choices. 
Decide the correct character length
Another consideration is the length of the domain name. A domain name shouldn't be too long – typically, a maximum of three to 12 characters – and should not contain special characters.
For instance, "gr8cakes-4all" wouldn't be an effective domain name, as it would make the potential visitor think of something else instead of visiting the site. Another thing to consider when choosing a domain name is that it should be short and easy to remember. If it's too complicated, it may be difficult to spell or even type.
Lastly, you should ensure that the domain name is easy to spell and pronounce. Try asking 10 friends to verify its pronunciation and make sure it is easily spelled. You should also have a website to point your domain name to a hosting account. 
How to Buy a Domain name?
Buying a domain name is a cakewalk (at least after reading this guide).  Once you are done with finding unique, trendy and branded domain names for your business, here is what you need to do:
Here we are providing instruction as your host provider is GoDaddy!
GoDaddy is one of the best places to start. With over 19 million customers worldwide, GoDaddy is the largest and most popular domain registrar in the world. 
The process of buying a domain name at GoDaddy is pretty straightforward. Just follow these simple steps: 
Go to the GoDaddy homepage and type your desired domain name into the search bar.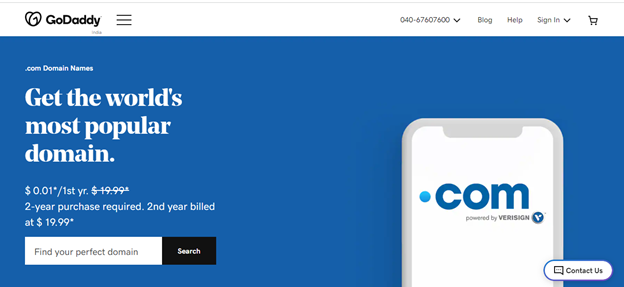 If the domain name you want is available, select it and click "Add to Cart."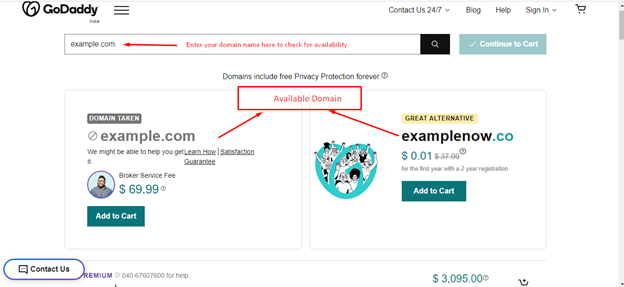 If the domain name you want is not available, you can try similar domains or select one of GoDaddy's suggested domains.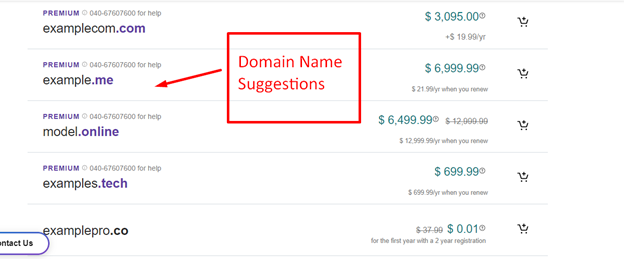 Once you've added your desired domain name to your cart, click "Checkout."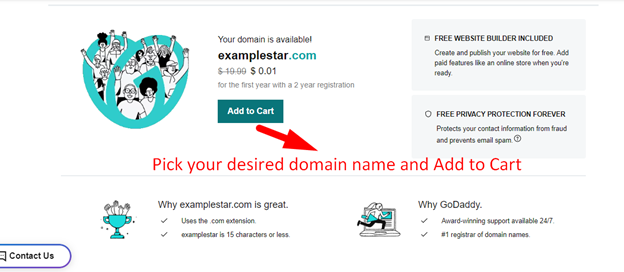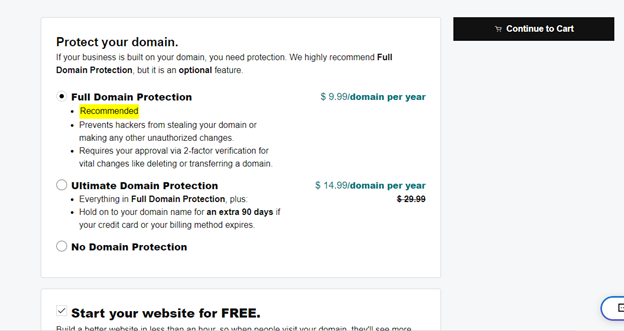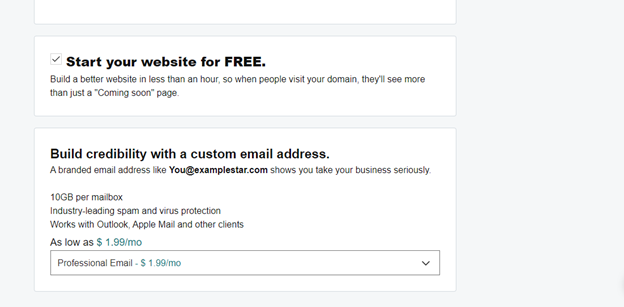 Enter your billing information and select a payment method. You can pay by credit card, PayPal, or bank transfer.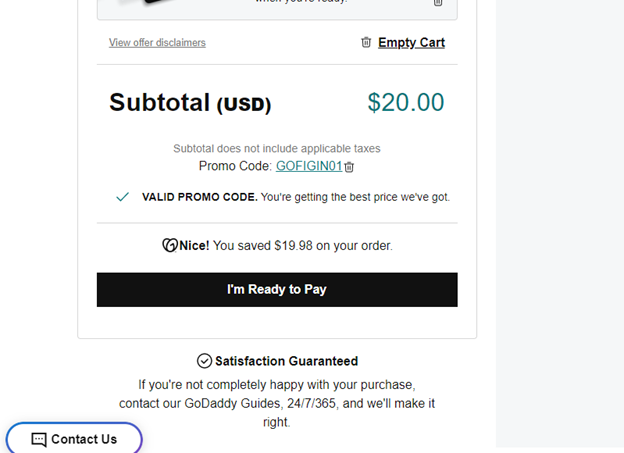 On the checkout page, you'll be asked to create an account or sign in if you already have one.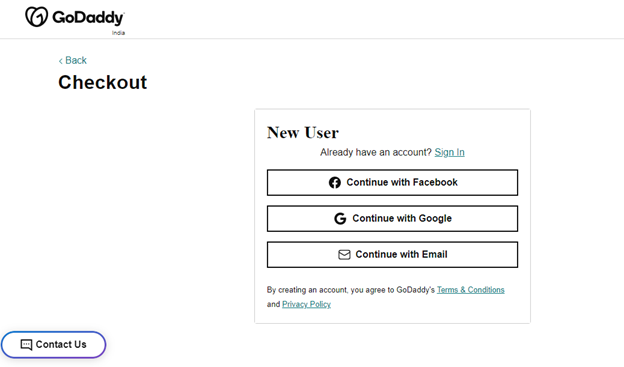 Review your order and click "Place Your Order." 
Congratulations! You've just purchased your very own domain name from GoDaddy.
General Prerequisites When Buying a Domain Name
Always Go for a  Reliable Domain Registrar
To kickstart your domain buying journey, you need to find a reliable register, accredited with the Internet Corporation for Assigned Names and Numbers (ICANN). Nestled in Los Angeles, ICANN is a renowned American multi stakeholder group and nonprofit organization monitoring the numerical spaces on the internet. One of the common Domain Registrar is NameCheap.
Expert Tips: When choosing a domain web host, go for someone that offers competitive pricing, auto-renewal, Add-on services (domain privacy or domain parking), an easy domain transfer policy, etc.
Check for a Trusted Domain Availability Checker Tool
As said, the digital world is overflooded with innovators and quite competitive in nature. So, the chances are very high that the domain name you are interested in buying is already in existence.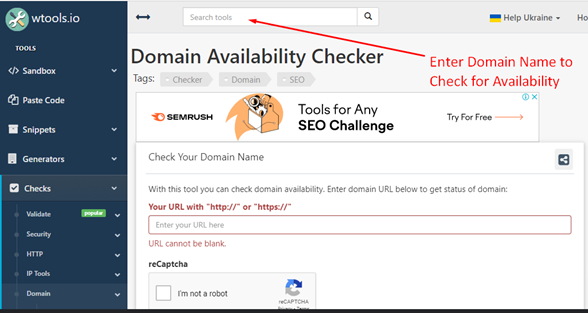 And here comes the Domain Availability Checker Tools handy! These tools can tell you whether the domain name you're looking for is available or not. Some of the best domain availability tools are  – namecheap, name.com, IONOS etc.
Find a 'Practical & Trendy' Domain Name Option
You already win the game by half when you have the right domain name for your business. Short and easy domain names related to your business core are easy to remember and optimize to drive better performance.
For instance, if you deal in the shoe business, you can go for a domain name like – 'cheapesneaker' than 'fashiondeals' – that says nothing about your business.
How Much Does a Domain Name Cost?
A domain name usually costs around $10-15 per year, but the price can vary depending on the registrar and the TLD. However, there are some ways to get a free domain name, or at least a discounted one. For example, many web hosting companies offer a free domain name when you sign up for their services. Additionally, some domain registrars offer discounts or promotions from time to time. 
The bottom line is, a domain name doesn't have to cost a lot of money. There are plenty of ways to get a great deal on a domain name. So, if you're looking to save money on your web presence, don't let the cost of a domain name deter you. There are plenty of ways to get a great deal. 
Buying a Domain from Another Person
There are a few things to keep in mind when buying a domain from another person.
When you buy a domain from another person, you need to make sure the registrar shows the domain as available. If the domain is already taken, you won't be able to register it.

Be sure to get the contact information for the previous owner so you can transfer the domain. The process of transferring a domain can be complicated, so it's important to have all the right information.


Finally, make sure you understand any restrictions on the domain before you purchase it. Some domains may have certain usage restrictions that you need to be aware of. For example, some domains can only be used for non-profit organizations. 
If you keep these things in mind, you'll be able to buy a domain from another person without any problems. 
Final Takeaways
Once you have purchased a domain name, you can build a website and point it to the domain. Your domain is now your new online home. Remember, a website should be professional looking and tell potential clients or customers what your business offers. It should also make it easy for them to buy or hire from you.
Not sure, where to start? Get in touch with our team of expert website designers ready to deliver a super engaging and eye-pleasing website in days! We build websites that convert!
Schedule your complimentary call now!
Subscribe To Glocify
Get tips and the latest news from Digital Space. Grow with Glocify!