Are you looking for WordPress themes that not just provide your website polished professional look but are also available for free? Fortunately, you don't have to wander around in order to search for such tools. Plenty of themes are available in the market, saving you a lot of money and mimicking any site designed by professionals.   
This guide will provide you with some of the most popular WordPress themes you could utilize to create a well-structured and professional website. 
Astra
Astra takes pride in being the most widely used free WordPress theme ever. It has numerous fantastic reviews and is being utilized on more than a million websites.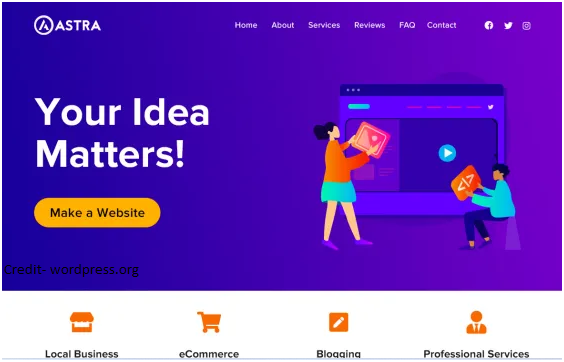 With this multipurpose theme, you can completely customize the look and feel of your website without writing a single line of code.
With Astra's more than 150 starter templates, web design is a breeze, and you can import them with a single click. Astra is specifically designed for speed. It is quick to load, taking only 0.5 seconds.The fact that Astra is compatible with the top page builders present in the market (Beaver Builder, Elementor, Brizy), as well as the obvious Gutenberg editor, is another benefit. Each of the builders has beginning sites available as well. All of this translates to the ability to swiftly create a website using Astra, then completely customize it with limitless color schemes and other features. However, until you import a starter site on top of it, the theme's out-of-the-box style isn't that impressive. 
Ocean WP
The way OceanWP delivers its features and its emphasis on minimalism and performance are similar to those of Astra in many ways. 
This theme can be utilized for choosing the features you require and then adjusting the various elements of your site. The level of customizability is likewise comparable to Astra's.
Above everything else, OceanWP has excellent settings and tools for E-Commerce. If you intend to open an online store, you might want to look at this since it integrates with WooCommerce.
Additionally, the plugins for page builders work with the theme.
Hestia
Hestia's primary traits include being svelte, orderly, and modern. The popular tab on WordPress.org has had the theme for a number of years. The fact that it has lasted this long and that new downloads continue to come in steadily each day makes us delighted.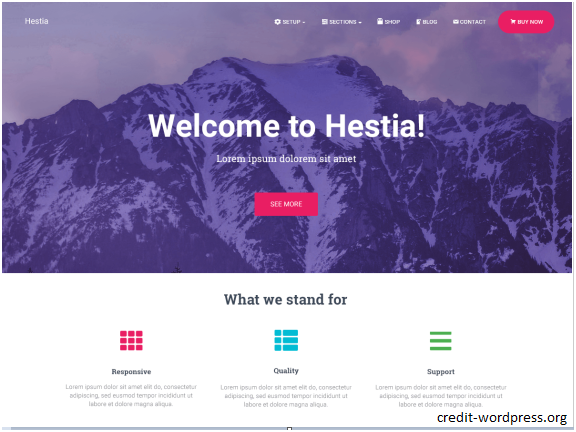 Users can find a level of simplicity in the theme that is difficult to find in other free themes on the market. You also receive a variety of starter sites that cover various website niches and styles, along with complete integration with the live customizer. Additionally, this responsive WordPress theme's design is timeless thanks to its appealing blocks and stunning parallax effects.
Hestia was created to integrate with page builders like Divi Builder, Elementor Builder, Beaver Builder, Brizy, and the new block editor in WordPress.
This theme will be ideal for a company website, app, online store, or agency.
Neve
Neve is a terrific WordPress theme to check out if you want to start your website quickly and use a ready-made design that you can import with a few clicks.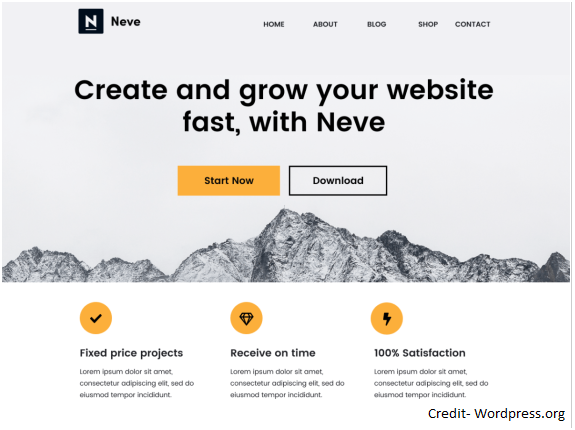 The Neve was included in the WordPress.org popular tab only a few months after it was made available, and it has been there ever since.
The theme requires a small number of your web server's resources and loads rapidly, which is a perfect match for mobile devices. Additionally, it gives even more beginner sites—more than 20—for free if you decide to upgrade from the lite to the premium theme.
Onepress
OnePress provides a fresh, modern take on flat design principles. It delivers superb typography and efficient use of whitespace, ensuring that your information receives the attention it deserves.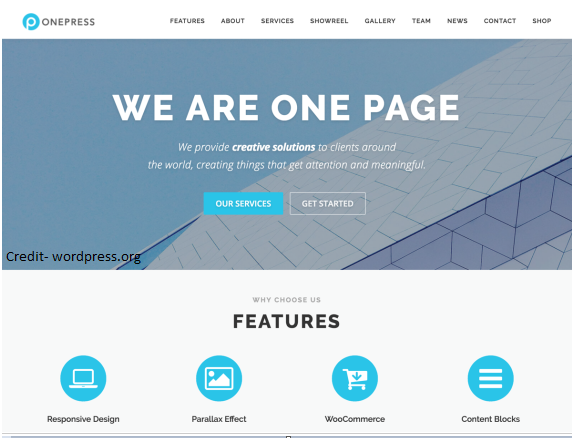 This theme is "one page," as the name suggests. Although you can add extra sub-pages if you like, the main focus of your website's structure will be a single, comprehensive homepage.
There are custom content blocks, widgets, and sophisticated theme customization options in the WordPress Customizer available with the design, which features a fully responsive layout.
Blocksy
Kadence is the free WordPress theme to seek if you want to build a website using WordPress that loads quickly. Because of Kadence's extensive library of templates, fonts, and color settings, you can put an end to your hunt for free WordPress themes.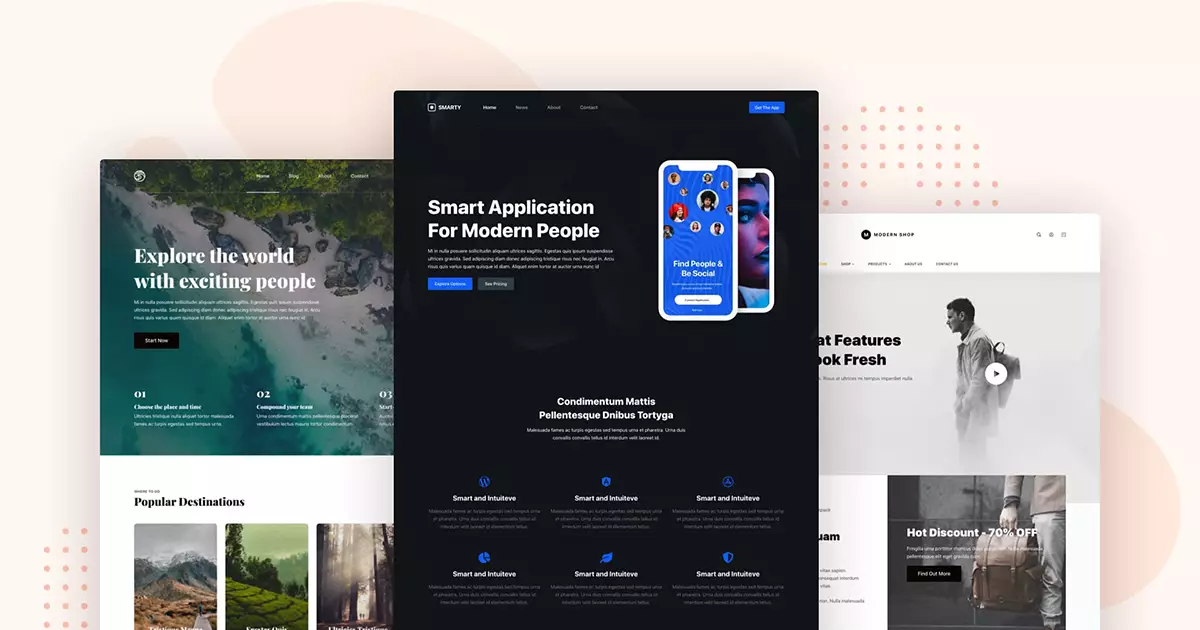 Customizr
Customizr is a straightforward but powerful free WordPress theme that increases traffic and provides the ideal user experience across all contemporary devices. This responsive WordPress theme powers more than 100,000 websites worldwide. It is a mobile-friendly and SEO-optimized WordPress theme. Therefore, if you're seeking the greatest WordPress themes, use Customizr without a second thought.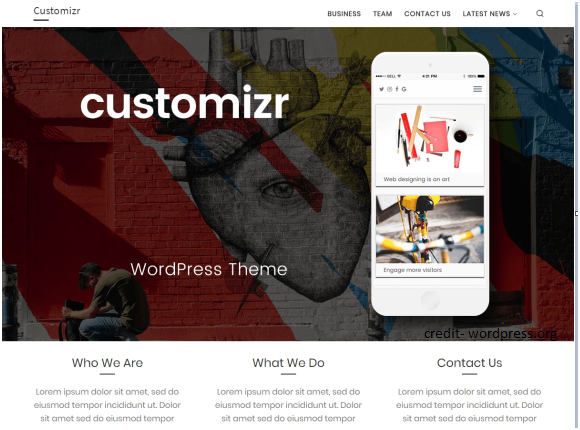 Popularfx
Using Pagelayer, the Popularfx free WordPress theme creates stunning websites. Without spending a dime, you may create your ideal website using any one of its 100+ ready-made themes. Additionally, you can create a fantastic website without any coding experience. If you want people to fall in love with your creation, pick a Popularfx theme!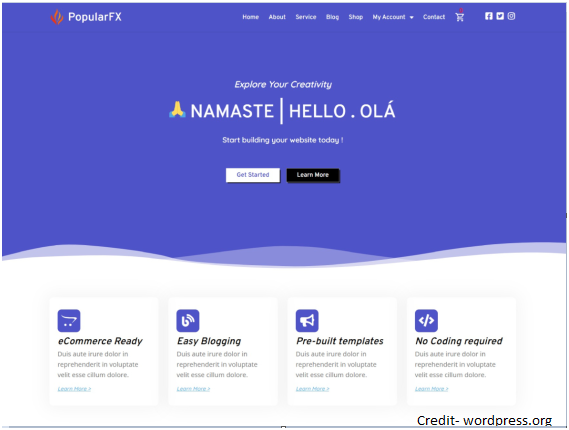 Hemingway
Hemingway is a wordpress theme built especially for bloggers that consist of two columns, making blogging more enjoyable and easy. Content is kept legible and organized in this theme.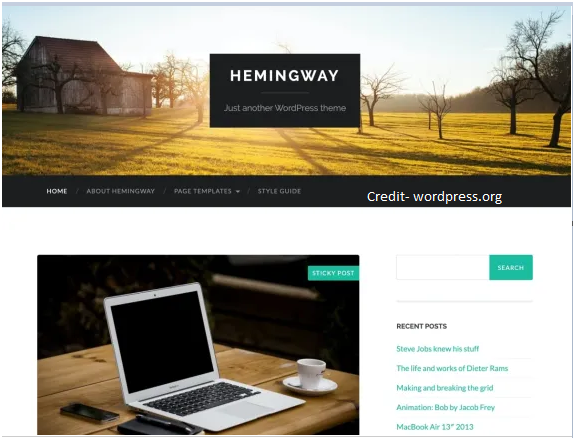 The major attraction of this theme is its easy-to-use setup. Hence, beginners don't get overwhelmed by a huge list. 
With features like a parallax effect in the background, and a scrolling feature, helps the user to enjoy a video-like experience on the pages of their website.
GeneratePress
Another WordPress theme that shares a similar philosophy with Astra and OceanWP is this one. Once more, a lengthy customizing interface with numerous dials and knobs is provided.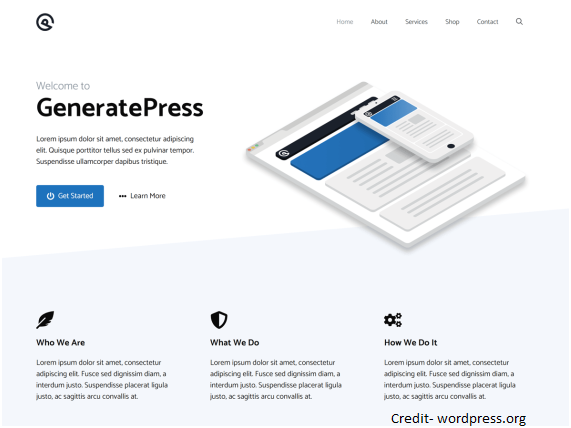 Layout options, post formats, typography, color scheme, and other small things can all be easily adjusted.
The premium version of this theme is slightly more focused on providing its most useful features. However, in comparison to those in Astra or OceanWP, the free version's theme selections could be a lot better. Additionally, the default design of this type of theme could be better.
Sydney
The popular section of the WordPress.org theme directory has featured Sydney for a very long time. And it's simple to see why. This WordPress theme offers a modern aesthetic that is frequently updated, and the Elementor page builder team has formally recommended it as one of the best themes.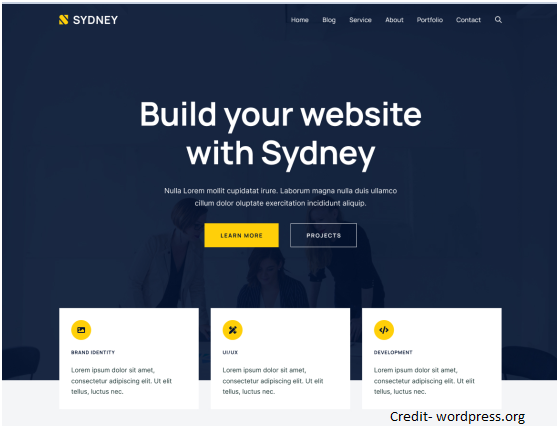 Responsive design choices, sophisticated WordPress Customizer integration, Google Fonts, and personalized Elementor blocks are all features of this extraordinary theme.
This WordPress theme is suitable for a business website, agency, or professional portfolio overall. Simply put, this might be it if you're searching for a theme to build a professional-looking business website.
ColorMag
The only theme specifically designed for magazine and news-style websites is ColorMag; therefore, if you don't have one of these types of websites, ColorMag is not for you.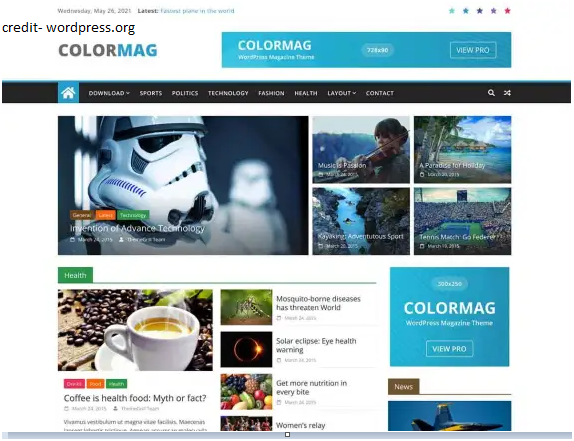 In addition, various page layouts and customizations are offered, allowing everyone to discover something that suits their specialty.
A lot of content may be handled by the design itself, which is why several pieces are produced daily. Consider using a new theme if your WordPress site doesn't generate this much content.
Twenty Seventeen
The two most attractive features of Twenty Seventeen's business-focused design are a new video header option and a front-page layout with panels taken directly from your site's pages. After which, you can add widgets, a social media menu, a logo, and your chosen color scheme to the theme to make it your own. Any industry can use Twenty Seventeen because of its adaptability.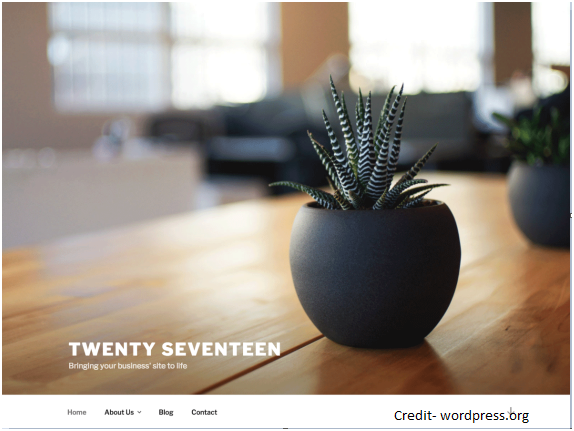 Twenty Seventeen's full-width photographs are perfect for presenting eye-catching pictures of luxury properties and other listings as a real estate WordPress theme. The header portion of the theme now supports video, which is a great method to emphasize attributes. You'll be able to communicate with current and potential customers to grow your business with a strong, individualized web presence.
Storefront
Storefront poses a simple to use and compatible with page builders layout. In addition, you can rely on this theme to work with the platform without encountering any odd glitches because it is the official WooCommerce theme. Additionally, if you need it, WooCommerce support is accessible.
If you want to use Storefront to set up your online store, you'll probably need to develop a base theme in order to make your alterations.
Kadence
Kadence is a versatile theme with astonishing customizability capabilities and lightning-fast speed.
The sleek, contemporary theme can be helpful for a wide range of people and organizations, from bloggers to owners of online stores. It works seamlessly with some of the top plugins in the industry to create and customize your website simply. This includes LMS solutions like Tutor LMS and LearnDash, as well as page builders like Elementor and Beaver Builder.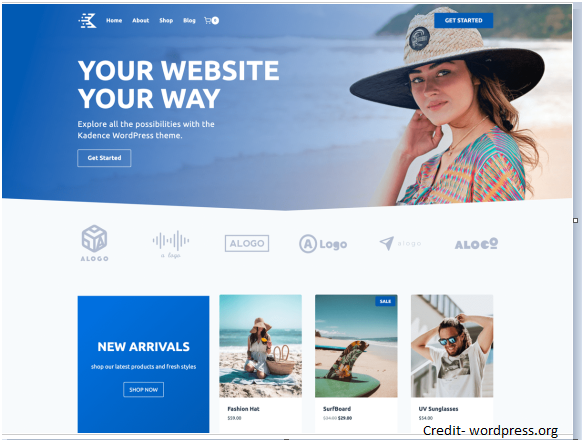 Kadence offers a library of demos, a clean and professional appearance, and quick start instructions. The theme is lightweight and adaptable, in addition to having ready-made templates, guaranteeing that performance won't be a problem.
Kadence is a good option to consider if you're searching for a clear, easy-to-use theme to develop a basic website. Additionally, a premium edition is available with more sophisticated capabilities, including header addons.
Everse
A multipurpose theme like Everse can be helpful if you are building a website for the first time.
This expert theme is easy to use and has a quick sample import that enables you to begin creating your website in just a few clicks. It is swift and search engine friendly. A number of amazing design and customization choices are also available.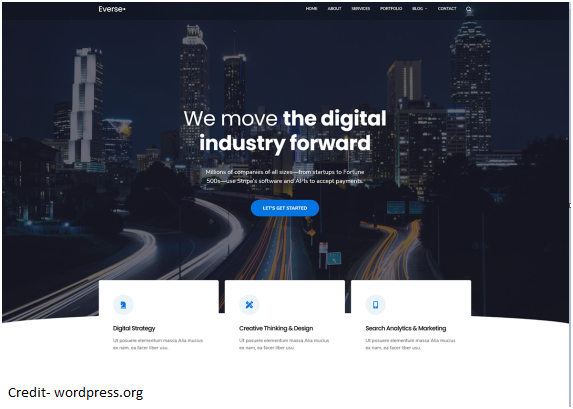 Without touching any code, Everse enables you to use the straightforward drag-and-drop page builder. The Elementor plugin creates gorgeous pages. Additionally, it comes with a library of starter sites for particular categories, premium Elementor widgets, and more than 20 pre-defined demonstrations.
Everse might be especially useful if you own an e-commerce website. The theme comes with a WooCommerce builder that gives you full control over each and every component of your product pages.
Zakra
Another multipurpose WordPress theme to think about is Zakra. This one comes fully packed with various features you can use to create whatever type of website you desire in half of the time; it would be required for you to do it manually. With regard to features and functionality, this theme satisfies all requirements. For example, it has SEO, site security, and speed all under control. If the more generic corporate design isn't your thing, it also has a tonne of pre-made demos that you can install with a single click and utilize to develop a site in a certain specialty.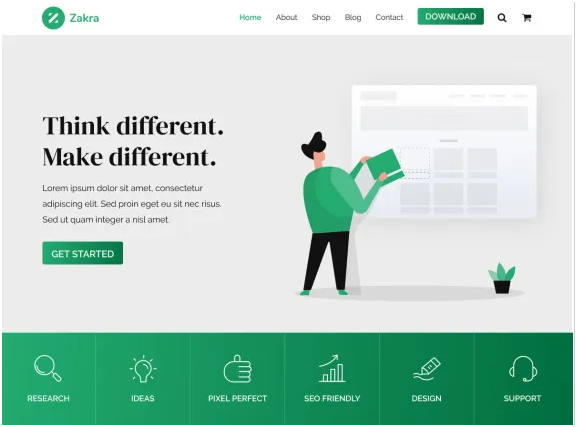 You'll be pleased to learn how simple it is to personalize once you've chosen your demo. Zakra uses the WordPress Customizer that comes standard, of course, but it also offers specific page options that make changing the look and functionality of each page a breeze. Additionally, because of how lightweight it is, users of your site will notice quicker load times and improved performance in general. This package also includes WooCommerce integration, which is essential if you ever want to open an online store.
Punte
WordPress themes with multiple features are common, and the competition is tough. This means a theme must have exceptional qualities to stand noticed. Punte satisfies this requirement, making it a worthy candidate for inclusion on any list of front-runners.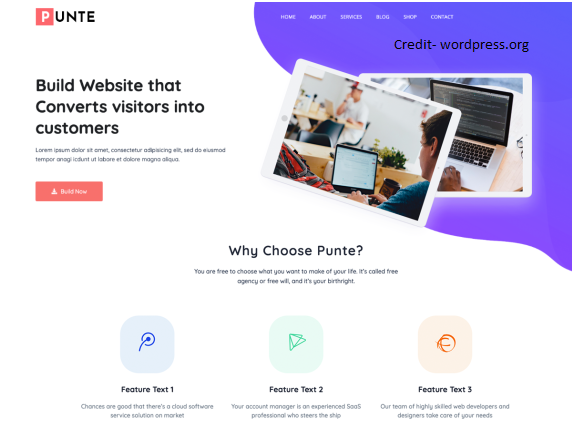 This theme includes a wide range of demos. They properly demonstrate Punte's adaptability and include both general use cases like blogs, product sites, and enterprises, as well as more specialized ones like wedding, yoga, and construction websites. No matter how you use a demo, it has a distinct style and adds value for users.
Additionally, you can customize the sample layouts using Punte. Punte also works with Elementor, the top page builder plugin available, making customization a quick and easy procedure.
Overall, Punte can offer on some fronts, while Elementor gives you even more alternatives regarding website design. This option should be on your shortlist, and you might decide to make it your default theme.
Sinatra
The Sinatra WordPress theme is a fantastic option if you want a clean, understated style. Due to its flexibility in being altered to fit virtually any niche, this theme is also a multifunctional solution. It has the aesthetics and functions for websites for businesses, portfolios, online shops, and blogs. This one is particularly appealing since both restaurants and photographers can use it.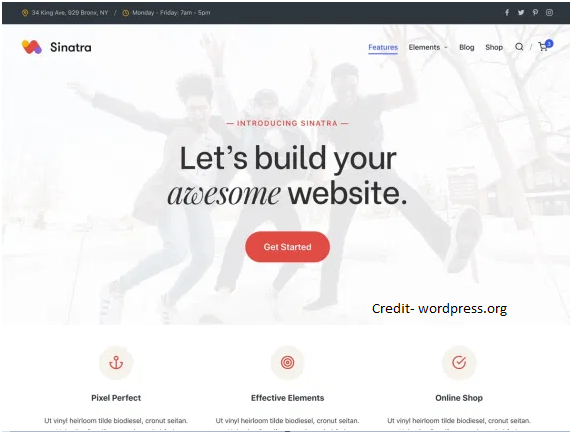 Sinatra has a straightforward layout and sleek style. A crisp color scheme is used by default. In order to allow your information to speak for itself, many whitespaces are used. However, this concept goes beyond appearances. It also works with the best page builders and integrates with Gutenberg.
Additionally, you can change all the standard design elements, including fonts, colors, and page layouts. To avoid trying to squeeze a square item into a round hole regarding the design flow and functionality you require, Sinatra also includes some pre-built samples. This is a good theme to have in your toolkit all around.
Rife Free
Rife Free is a multipurpose WordPress theme that includes seven ready-to-use demos, each of which focuses on a distinct market. You can find something that meets your demands whether you're a photographer, blogger, or owner of an internet store. Starting an online store with this theme should be quite easy since it is E-Commerce-compatible. It also has a tonne of tools that make it easier to create, customize, and publish websites.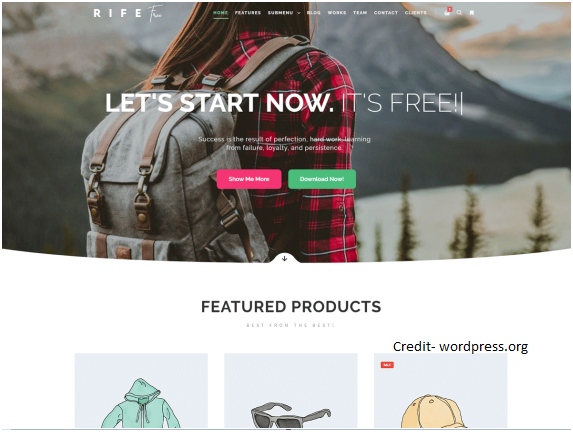 For instance, this theme supports video sliders and has built-in masonry gallery capabilities, is mobile-friendly and responsive, and has a one-page design layout. Mega menus, post grids, and Google Fonts are also supported. To create a fullscreen layout, you can even hide the sidebar.
Spacious
 This is another responsive WordPress theme that is best suited for bloggers. Thanks to its clean and modern design, it is compatible with different niches and is available in two skin options, i.e., light and dark. 

There are 15 starter sites available that can be imported with just one click. The featured images are displayed in a split-screen layout on one side, and on the other side, the post titles and excerpts are displayed, which makes the design look more dynamic. 
If you decide to utilize WordPress Customizer, a flexible page layout is provided by this free theme. You can also add a primary color that matches your brand's logo and include social links, which provides the ease of sharing your content. 
Like most themes mentioned in this blog, Spacious is also compatible with WooCommerce and other popular plugins. 
Wrapping it up!
We are all aware of how crucial a site's aesthetics are, as this element highly impacts brand recognition. For that reason, we have compiled a list of the top free WordPress themes. The majority of themes allow readers to enjoy the website content and are fully responsive. These themes are available for download from WordPress.org. You can struggle to select the ideal WordPress theme for your project because so many of the mentioned themes are fantastic. Always take theme reviews, features, and functionality into consideration. Last but not least, be certain of the idea behind your website.
Subscribe To Glocify
Get tips and the latest news from Digital Space. Grow with Glocify!